Welcome to Istanbul, the Crossroad of the East and the West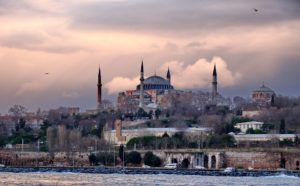 Istanbul, or else known as Constantinople, is one of the largest cities in Europe. It is located at a strategic spot, connecting the East with the West. Both Oriental and European elements are prevalent in every inch of Istanbul, making it an exceptional destination for magical holiday experiences in Turkey. Due to its great significance, many mistake Istanbul for the capital of Turkey. Although it is not the capital, it is indeed its major hub of commerce and culture.
Visiting Istanbul for a Unique Experience
As soon as you set your foot on the Turkish city, you will fall in love with its distinct nature. There is a laid-back atmosphere that takes everyone by storm. If you reside somewhere in the center, you will be able to walk to the major sights. Alternatively, you can use the Tram. Istanbul is well connected and it is walk-friendly, which is equally amazing. Hagia Sophia is an impressive Basilica from Byzantine era, turned into a mosque later after the Ottoman ruling of the city. It maintains its significance as a landmark of Christianity, though, attracting thousands of visitors every year.
Opposite Hagia Sophia there is the Blue Mosque. An equally breathtaking building of devoutness, this time for the Ottomans! Blue is the prevalent color, as its name highlights. Then, there is Grand Bazaar. Nobody should visit Istanbul and not head to the bazaar, in order to enjoy great bargains and top sales. There are many souvenirs, textiles, herbs and spices for you to choose from.
Topkapi Palace is another major attraction of Istanbul. In an opulent setting, you will have the opportunity to admire some of the finest exhibits in the country and enjoy lush greenery at the blossomed gardens. Bosphorus is the natural strait that separates Europe and Asia. There are boats that allow you to discover the hidden beauty of this place, revealing its magic.
The Hippodrome of Constantinople is another great square, along with Taksim Square. Both of them are equally exciting to visit, for different reasons however. Apart from all that, you are encouraged to visit Istanbul Archaeology Museums and Beylerbeyi Palace, the New Mosque and the Walls of Constantinople, Spice Bazaar and many other highlights across the city.
Whatever you do, do not forget to have a taste of Oriental Turkish delicacies, surprising your palate in every single bite and traveling to places far away!